Friday, August 22nd, 2008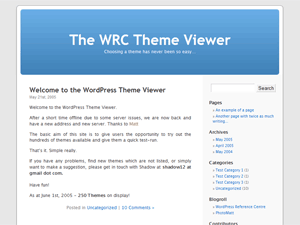 It was last fall that I decided to go with WordPress as my blogging tool for lello. And since that time I've been working to get WordPress integrated and running on the Website.
My wife likes to remind me often that I could have gone the easier route and set up a Blogger or LiveJournal account, but that would have meant sending perspective customers away from the lello Website to read blog posts hosted somewhere else. This is a marketing no no for me. In-fact, one of my main criteria for selecting WordPress was that it is a fully customizable blog solution that can be seamlessly integrated into an existing Website. You can even use it as a light content management system to update all or specific pages on your site… a nice time saving addition.
But to be fair on myself and to put the time I spent into context, let me first say that I'm not a professional coder, secondly, it's not like I spent every waking moment working on the blog and lastly, as much as you may hear it from WordPress and people who use it, it's not something you're going to get up and running in 5 minutes.
All and all… I'm happy I chose to go with WordPress, though I'm not going to glaze over the fact that it was a lot of work to transform it from the "default" theme it's shipped with to what it looks like here. I see a few problems here and there, but at some point you gotta say "what's good enough is good enough" and launch the darn thing right? So I apologize now for any problems you might stumble across and ask that you shoot us an email and let us know. Tho… I can't make any promises the issue will get fixed sooner than in the next 9 months.
So there you have it… the first post on lello using WordPress. Comments are welcome. Until the next one, best.