Thursday, April 24th, 2008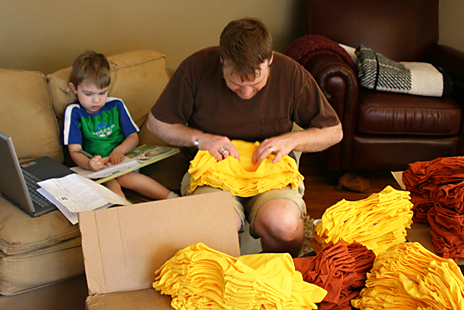 Yep, the t-shirts arrive the other day and I spent a good chunk of this past Saturday morning checking inventory with Jackson. A rather unpleasant task made pleasant by a very upbeat and driven 3 year old. It's pretty clear that he's got solid project management skills just like his mama.
For this round of tees we've decided to use Rabbit Skins which are manufactured by a company called L.A.T. Sportswear. We sampled a variety of shirts and decided on RS for a bunch of reasons, the primary ones being fit, comfort and color choices. Their customer service also rocks, which in this day and age, is a big selling factor for me.
The art and shirts have been delivered to the screen printer and it looks like the first run will happen towards the end of next week. We're all pretty excited around here.