Sunday, October 21st, 2007
It turns out that starting a business doing something you're really passionate about while managing a career and family takes quite a bit longer than we'd expected, so we haven't been as guerilla-like as we'd planned to be about advertising just yet. Fortunately, our first experience doing a mural for a paying customer was everything we hoped it would be, and - speaking for myself - it seems as though everyone walked away very happy with the end result. I'm still a little dumbfounded by the fact that I got to draw pictures on someone's walls AND get paid for it… my mother is no doubt, very impressed.
The job was to paint an elephant, lion, giraffe and a zebra - all emerging from behind various windows and doors. I've left pieces of the moldings and windowsills visible in a few of the pictures to give some frame of reference in terms of scale.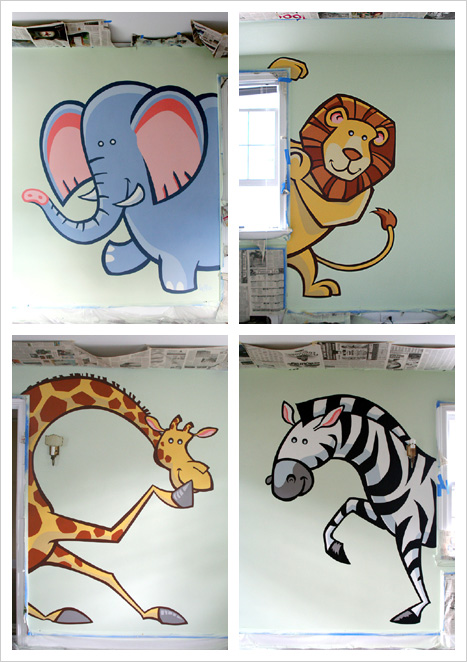 (Click the picture to view more)
Art is far from a science, but I tried to be as systematic as I could be in documenting things such as how long the process took from start-to-finish, which colors work well together, and how different types of weather/humidity affect the time it takes paint to dry. All of my copious note-taking meant that things took a bit longer than they otherwise would've, but until it all becomes second nature, it'll be handy to have the info to refer back to next time.
I was also reminded several times during this process that I am my own worst critic, and it's nice to have a wife to give you tough love and tell you when it's time to stop obsessing over the color of the giraffe's spots or the size of the elephant's ears. (Asian elephants have smaller ears than African elephants, btw. It's all about temperature regulation. Thank you, Wikipedia.)
Thanks as well to Mr. and Mrs. Halm for hiring me to adorn their children's walls. I hope the animals will always be as special to them as they've been to me!