Saturday, May 19th, 2007
Tomorrow is the big day… lello's debut at the Mayfest street festival! We joke that someone must've slipped a contract into the big stack of papers we signed the day we closed on our house in Maplewood four years ago, obliging us to have a child as our first matter of business. There have been at least a dozen kids born on our little block since then, and when we look out our bedroom window these days and see everyone playing ball in the street or selling pink lemonade on their front lawns, it feels like we've struck gold to have found that small-town closeness that we almost thought didn't exist anymore.
Fortunately, the town is also very welcoming of home-grown businesses. Our neighborhood toy store, the funky little coffee shop, the bead shop and the knitknack yarn store… they're all locally owned and operated, and people are proud to shop there and show their support for the community. To foster that home-town pride and get our business name out there, Mike designed his first Maplewood t-shirt for kids. We had no idea how many to print up, so it's possible that either Jackson and Sadie will be wearing them until they graduate, or we'll have to apologize to everyone at Mayfest for selling out so quickly. Let's hope it's the latter… there are certainly worse problems to have your first day in business!
Here's a pic of our friend Jordan modeling the shirt for everyone.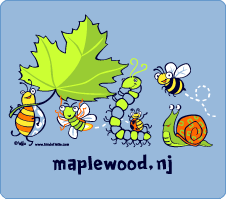 If you can't make it to the Mayfest and you're interested in purchasing a shirt, shoot us an email.